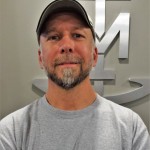 Robert "Robbie" Douberly
Finishes and Varnish
Robert "Robbie" Douberly, the Head of the Finish Department at TMI is a Savannah native born and bred.  His family has a history of boat building in Thunderbolt dating from the early 30's to the 70's.  His Great Grandfather and his Grandfather built shrimp boats off the bluff in Thunderbolt, employing the Portuguese traditions and techniques of their heritage, only bringing the vessels into the commercial boat yard for the finer touches.  His family made their home in Thunderbolt and Robbie's Mother worked at the old convenience store located in what is now the Main Offices of Thunderbolt Marine. As a child, riding his bike through the neighborhood he would stop in at the store, look through the gates and marvel at the scope of work carried out on the yachts coming to Thunderbolt from around the world.
During Robbie's early school years, the family moved to Texas but Thunderbolt called them back.  While in high school to earn money on weekends and evenings, he learned the basics of painting and varnishing at local marinas as well as the yard based on the property that is now TMI.  Like many young adults, Robbie was bitten by a travel bug and used his new found skills to secure work in various boat yards along the way, in the U.S. as well as a summer in Germany, which is his most memorable experience. He feels that these travels broadened the knowledge of his craft.  Working pretty much every day of the first two months he was there, but taking advantage of a month of free time. Hitchhiking,  he explored much of the country. His favorite time was spent in the small villages in the Bavarian Alps.
Robbie oversees four craftsmen, whose skills include a wide variety of finishes on furniture, walls, flooring and rails, including faux finish, spray and brush applications, satin and hi-gloss finishes and color matching of paints.  With two prep/finish buildings at his disposal, there is little that presents Robbie's team a problem.  Robbie is knowledgeable in exterior painting & fairing as well, working with his brother Adam, the Head of TMI's Paint Department.  That experience along with his expertise with interior finishes and all varnish work, make him quite an asset to the company.
Robbie lives on nearby Wilmington Island with Michelle and their rescued Rottweiler, Zeke.  He spends a lot of his free time involved in various local outreach programs and volunteer organizations like the local humane society, spending time with a good friend, walking the adoptable dogs as well as giving them much needed attention.