Some months ago thanks to a visiting crew member, TMI was made aware of a charity for single mothers in our own area. With the holidays approaching and the spirit of giving so much on people's minds, we hosted a drive to benefit those in need of the most basic items. An e-blast was sent out to all the customers in the yard and to all our workforce requesting canned foods, hygiene & paper products and other essential items to cope with daily life.
The motor yacht Copasetic was the first to kick the ball rolling. They pulled out all the stops with a very generous donation including basics, gift cards and fun items for kids, which challenged the rest of us to take it up a notch if we could. Soon piles and piles of much needed items and some luxuries were accumulating in the front office with daily deliveries from employees, the visiting yachts and even some subcontractors.
On the 22nd December, Judy Salzman (Project Adminis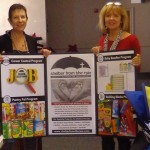 trator) and Karen Pranschke (Customer Services Rep) loaded up with help, two SUV's filled to the brim with a remarkable amount and variety of goods to hand over to very worthy organization called SHELTER FROM THE RAIN based here in Savannah through a local church. We are understandably, extremely proud of how successful our call for help was and how enthusiastically everyone rallied around – and most importantly, we are so very grateful to all of those of who found space in their hearts to make such an unselfish gesture during a season when all too readily, we often only think of our immediate loved ones.