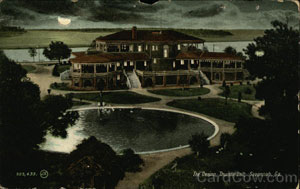 The Casino at Thunderbolt was built in 1895 by the Savannah Electric Company to increase patronage on their streetcar lines to Thunderbolt. The tracks ran right up to the Casino, a large three-story frame building with expansive porches supported by white wood columns on all sides.
The porches and balconies provided shade in the summer and views in all directions, of the river, marshes and amusement park. There were two large pavilions on the north and south ends of the Casino. Broad staircases led to the main entrance, facing the bluff.
A pamphlet advertising the Casino could not have made it sound more enticing:
"To him who is on pleasure bent, the Casino and Park at Thunderbolt offer everything to be wished for. The Casino building is large, well-constructed and convenient, with spacious airy piazzas, a roomy and well ventilated auditorium, lighted by electricity, and cooled by electric fans, with a fine dancing floor, handsome stage and furnishings and the best orchestra in the county. Here is presented in the amusement season, vaudeville, comedy, minstrels, and comic opera. Dancing and moving pictures are furnished free for the pleasure of those who visit the resort."
The Casino was one of the first establishments in the Savannah area to show movies. Ernest F. Schmitt, a long-time employee of the Savannah Electric Company, ran the projector. The above description emphasizes that the Casino was built not only to increase business on the streetcar lines but to promote the popularity of electricity, with movies, lights, and fans all running on electricity.
The grounds around the Casino were as exciting as the actual Casino facility. Built on parts of the Confederate battery, the site boasted two bandstands for concerts and dancing. One bandstand extended over the bluff onto a pier jutting over the Wilmington River. The second bandstand was a circular gazebo in the center of a large round duck pond west of the Casino. As at the Savannah Yacht Club, wood and cast iron benches lined the bluff overlooking the river.
The Casino grounds included an amusement park which further promoted the interests of the electric company with electrical rides and games including a merry-go-ride and miniature roller coaster. Additional entertainments included a thirty-acre zoo and a beer garden. In one post card image of the Casino, tightrope walkers are performing on a rope set up over the duck pond at almost twice the height of the Casino.